Summer Rolls feat. MCT Oil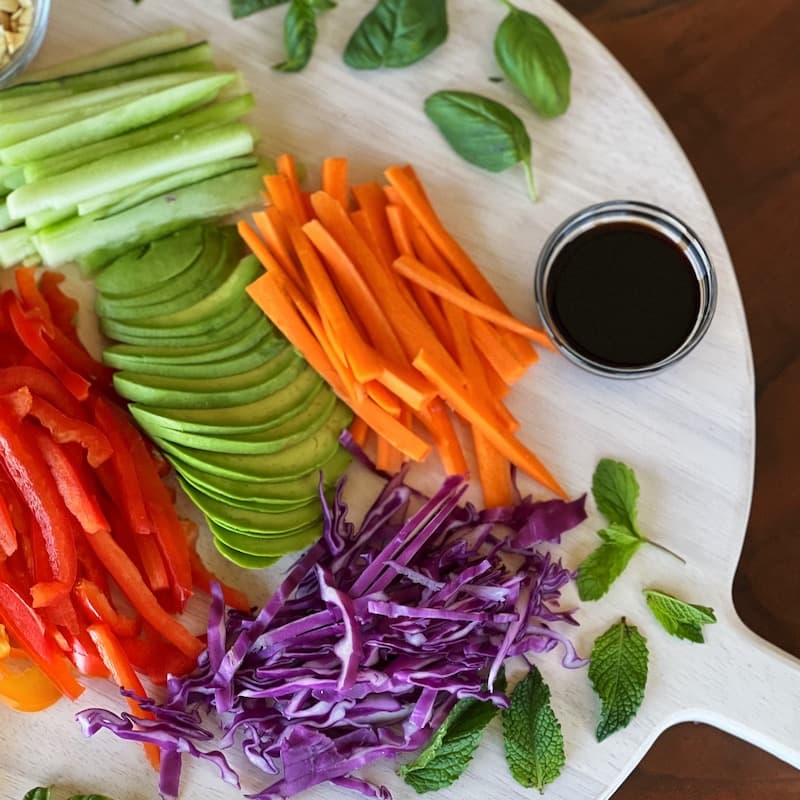 For a refreshing yet savory treat, look no further. These Summer Rolls, featuring our MCT Oil, are the perfect blend of nourishing vegetables and sweet, mouth-watering sauce that fuels the body and brain.*
---
Ingredients:
Rice Paper Wraps

Lettuce

Carrots

Cucumber

Purple Cabbage

Pepper

Basil

Mint

Cilantro
Peanut Sauce:
¼ cup Peanut Butter

2 tbsp Soy Sauce

2 tbsp Rice Vinegar

1 tbsp Toasted Sesame Seed Oil

1 tbsp Sports Research MCT Oil

1 tbsp Filtered Water

1 tbsp Maple Syrup

½ tsp Garlic (minced)

½ tsp Ginger (chopped)
---
Instructions:
For the wraps:
Wash and prepare all fillings – thinly slice peppers, cucumbers, carrots, lettuce, and cabbage and set aside.

Mix the rolls by immersing the rice paper in a shallow plate/bowl of water for about 15 seconds (rice paper should still be a little firm but will become soft quickly).

Place rice paper down on a clean surface and layer in all the fillings.

Roll up rice paper, nicely tucking all the fillings, like a burrito.
For the Creamy Peanut Sauce w/ MCT Oil:
Add all ingredients into a medium-sized bowl and whisk until creamy and smooth. Add water to reach the desired consistency.
Dip wraps into the sauce and enjoy!